We offer The All-In-One policy designed for Non Profit Organizations:
General Liability
Property Insurance
Directors & Officers Liability
Employment Practices Liability
WHY YOU NEED TO PURCHASE A NON PROFIT PREMISES PACKAGE:
These entities may have a desire or a contractual need to satisfy a landlord to cover the space they rent with General Liability coverage.
Many entities have hadeled their insurance needs with monoline policies that will cover their true exposures such as Professional Liability
Non Profits are sued by their employees, committee members, volunteers and clients
Over 90% of claims against non-profit organizations are Employment Practices related
Nearly 85% of non-profits have an annual budget that is less than the average cost to defend a claim closed by litigation
Why should you choose the Non Profit Premises Package?
Greater efficiency: One Application, One Quote, One Underwriter, One Policy, One renewal, One Carrier for all claims. All with concurrent effective dates
The following are important coverages to have in your policy. Make certain you have all of these coverage features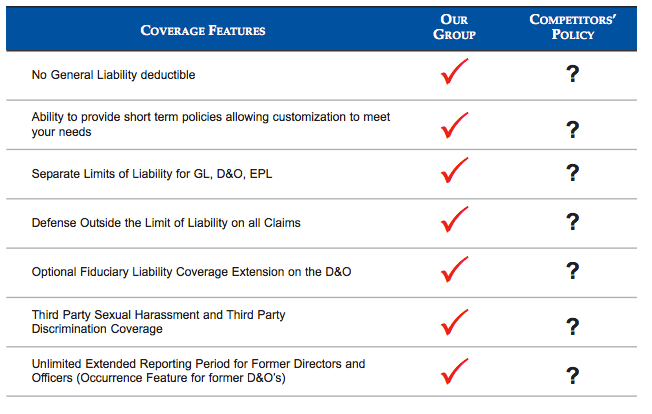 One Policy + One Carrier = A Reduction In Coverage Gaps
Protecting nonprofit organizations starts by providing comprehensive coverage for their directors and officers. We can provide a variety of tailored coverages that can be purchased together under one policy to help give your customer the peace of mind they deserve.
How does this all-in-one solution help them?
Prevents gaps in coverage that occur when you have multiple policies with multiple carriers
Only one renewal date for all lines of coverage
Policies with multiple coverages renew at a higher rate
One application to complete u Quoting options:
Online/Instant Phone Quote
In by 2 p.m., out by 5 p.m. service
Efficient renewal process
Coverages to consider adding:
General liability of day-to-day operations
Property coverage for building and business personal property
Special Events for fundraising operations and social events
Hired and non-owned auto for employees and volunteers while performing services on behalf of the organization
Crime coverage to protect against employee/volunteer theft
Directors and officers/Employment practices liability – IN PLACE
Our All-In-One Non Profit Package product provides Non Profit Organizations the opportunity to purchase Premises General Liability, Property, and Directors & Officers and Employment Practices Liability coverage all through One application, One underwriter, and One policy!
THIS PRODUCT IS IDEAL:
For hard to place office-based risks
To satisfy lease requirements
PRODUCT OPTIONS:
General Liability
Property coverage
Directors & Officers Liability with optional Employment Practices Liability
GENERAL LIABILITY:
Non auditable policy as premium is based on square footage, even for non-premises driven classes
Limits available to $1,000,000/$2,000,000
Landlord can be included as Additional Insured
No liability deductible
PROPERTY FEATURES:
Property coverage using ISO's April 2002 coverage form
Loss of Business Income coverage
Equipment Breakdown – includes free boiler inspection if required in your jurisdiction
Value Plus Endorsement – includes Money & Securities coverage, Accounts Receivable coverage, Employee Dishonesty coverage and many more coverages
Special Cause of Loss form
DIRECTORS & OFFICERS/EMPLOYMENT PRACTICES FEATURES:
Separate Limits of Liability
Defense Costs outside the limit
Unlimited Extended Reporting Period for former
Directors & Officers
ADDITIONAL ADVANTAGES:
Quick quote turnaround
Quick binder confirmation
A.M. Best rated A++ carrier This
Claim Examples
Directors & Officers: A city neighborhood planning commission for the board of directors is made up of persons appointed by several smaller neighborhood commissions. The board determined its size was too large and decided to reduce the number. This decision reduced the number of board members appointed by the smaller neighborhood associations. The claimant (one of the smaller neighborhood associations) alleged their reduced proportional representation on the board was to their detriment and sought an injunction to prevent the reduction of board size. An operating foundation was sued by the U.S. Department of Justice for alleged misappropriation of funds and failure to return unused. The organization had used left over federal grant money to renovate office space when the money should have been returned to the government.
Employment Practices: An employee of an environmental organization alleged she was sexually harassed by her supervisor and was then retaliated against for reporting him to senior management. She claimed he had requested sexual favors in order for her to be considered for higher paying positions. When she did not comply, not only did she not receive the promotion, she was demoted to a lower salary position. She also filed her claim with the New York Division of Human Rights.
General Liability: The claimant was attending a lecture at the Historical Society when she fell down their stairs injuring her back. A start-up environmental group hosted a one-day seminar in its office to update contributors on the organization's activities. The organization is responsible for cleaning a major river in its area and has had difficulty securing general liability coverage. During a break, a guest went to get water from the break room and slipped and fell due to a wet spot on the floor. The guest injured his arm and wrist.
Property: Unknowns broke into the office of a Labor Union and vandalized their premises and stole several computers. An artificially generated surge of power caused a 75-ton compressor and 100-ton compressor in the HVAC (heating/ventilating/air conditioning) unit to electrically fail. The compressors were replaced with rebuilt models to avoid/mitigate downtime at a total cost of $116,250.50. (Covered by Equipment Breakdown Endorsement) Th